INCOMING v0.95b
SEPTEMBER 19,2001
[EXE]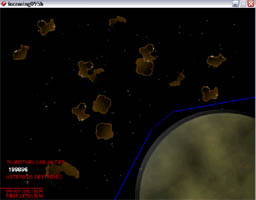 Time: 6h

Purpose:
1. Final Assignment in my Director 100 Class - Make a game

Project description:
The game foreces the user to save the world from incoming asteroids by clicking on them multiple times to destroy them. Once the asteroids pass the point of no return , planetary casulties rise. The less people die, the better your score is.

Notes:
This was my final project and it turned out pretty well. The application itself doesn't need any installation just run the exe.